Residential Landscaping Services / Hardscapes
When you want to make the most of your time outdoors, a customized hardscape is a perfect way to expand your home and gather in an area surrounded by nature.  
A hardscape is a broad term that refers to the non-living structures in landscape architecture and includes patios, walkways, pergolas, and most concrete or stone structures you'd use in your landscape. 
Rosehill Gardens creates, designs, and builds a number of hardscapes designed specifically for your property and vision.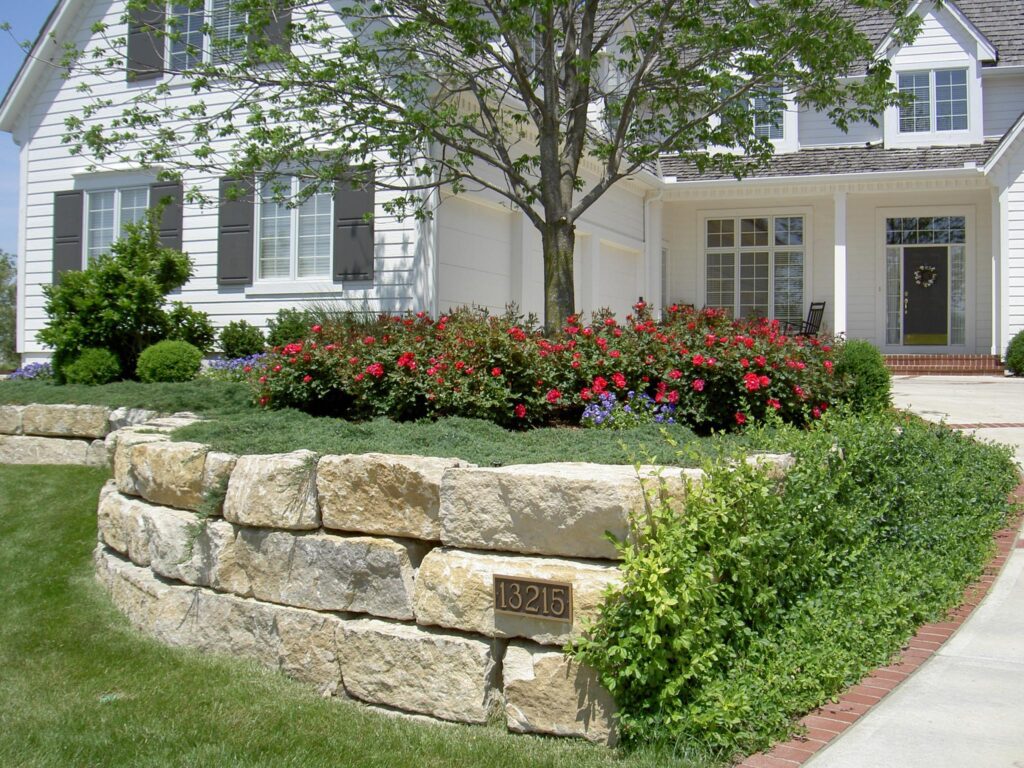 We are a long established landscaping firm with a deep focus on our clients' needs.
Outdoor Kitchens
From Kansas City BBQ to Birthday Banquets
There's nothing better than an outdoor kitchen and eating space for a unique spot for entertaining or family time. When you imagine the perfection of sipping an ice-cold cocktail or beer in the warm breeze while serving up dinner, it's no wonder that homeowners are installing top-of-the-line outdoor kitchens in their properties. Outdoor kitchens offer the opportunity for you to entertain or relax with family and friends while enjoying the view of nature and inhaling the fresh air. As an expansion of your functional living space, installing an outdoor kitchen also significantly increases your home's value. Our experts and Rosehill Gardens design stunning outdoor kitchens that mesh beauty and utility. Whether your home is a modern haven or a cottage-style classic, we customize your outdoor kitchens to blend perfectly with your home's existing design while marrying it with your preferences and vision. We also create outdoor kitchens for any size or function, customizing as we go to ensure we're creating something for you to use as much as possible. Our customized kitchens can include grills, stovetops, pizza ovens, refrigerators, sinks, cabinets, expansive countertops, and many other features. For amazing outdoor kitchens explicitly designed for your space, call us today so we can turn your ideas into a reality.
Fire Pits & Fireplaces
For Fire Pits that Light The Way
Fire pits have become an ideal way to entertain outdoors no matter what the season. Whether lighting up a fire to keep you toasty on a winter's night or roasting s'mores on a spring evening, fire pits and fireplaces are the perfect addition to any outdoor space.
Our landscape designers customize your outdoor fireplace or fire pit depending on your needs. As with all our hardscapes, we have an extensive range of materials to suit any theme, style, or vision. Chat with us today to ignite more memories in your home.
Patios & Walkways
Perfect Patios and Walkways
Whether you're looking for a fairytale cobblestone path through wildflowers or a stamped concrete patio design that oozes outdoor style, Rosehill Gardens can help. We create walkways and patio designs that blend seamlessly with new or existing landscape designs, providing stunning pathways and warm, welcoming spaces.
Our designers have never met a walkway or patio project they can't implement, and our patio designs can easily facilitate fireplaces, outdoor kitchens, and sitting areas. We use natural and artificial materials to blend your space's natural and functional elements creatively together.
Here's an example of the materials we use for your walkway and patio designs:
Bluestone
Flagstone
Pavers
Stamped Concrete
For stunning patios and walkways designed specifically for your space, call us today so we can turn your ideas into a reality.
Retaining Walls
Enhancing and Protecting Your Landscape
Retaining walls can add to the beauty of your landscape and make some challenging lawn areas easier to manage. Traditionally built to support vertically sloping land through erosion and waterlogging, retaining walls are now a popular landscaping feature that incorporates plants, trees, and flowers to elevate and magnify a landscape's beauty.
The Rosehill Garden experts can guide you in the steps to integrate a seamless retaining wall into your landscape or assist in designing your retaining wall from the bottom up. Our vast selection of retaining walls and landscape walls offers a variety of colors, dimensions, and textures to suit any outdoor style. Our designers are experienced in building retaining walls no matter the scope of the project, including raising large patios and stairwells, bridging gaps between levels, and forming raised beds for flowers or gardens. Curious as to whether your landscape could benefit from a retaining wall? No problem, our professionals will talk you through options, materials, and how to best incorporate a retaining wall into your landscape.