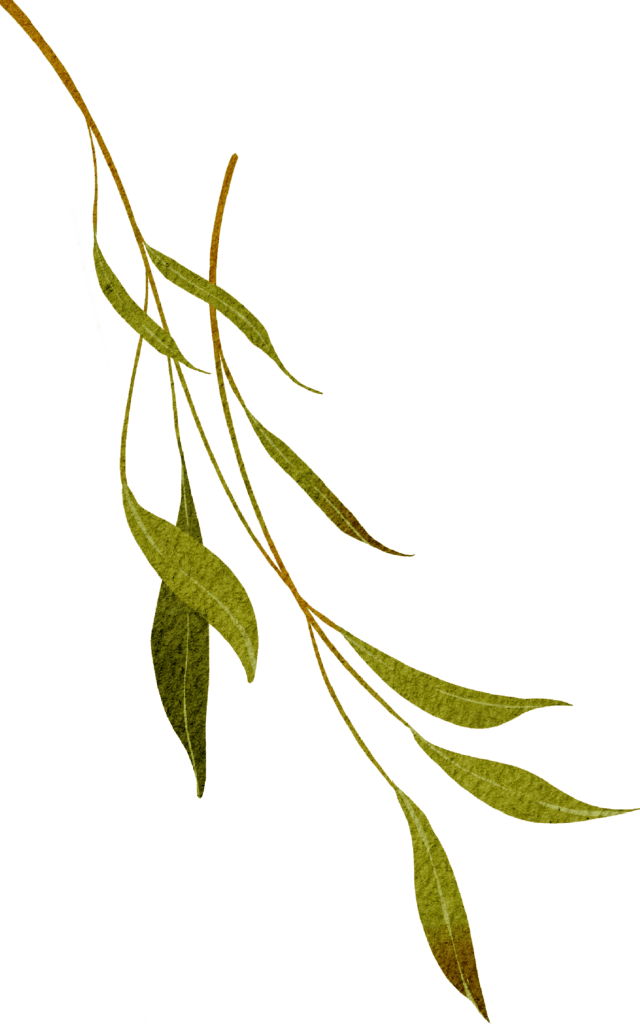 No other event space offers you a more picturesque location for your Kansas City event than Rosehill Gardens. Our outdoor venue features stunning manicured gardens, a beautiful pond, a versatile space, and extra amenities. Immersed in rich greenery with meticulous landscaping design, our event space is a perfect choice for your wedding, corporate event, fundraisers, or any other celebration.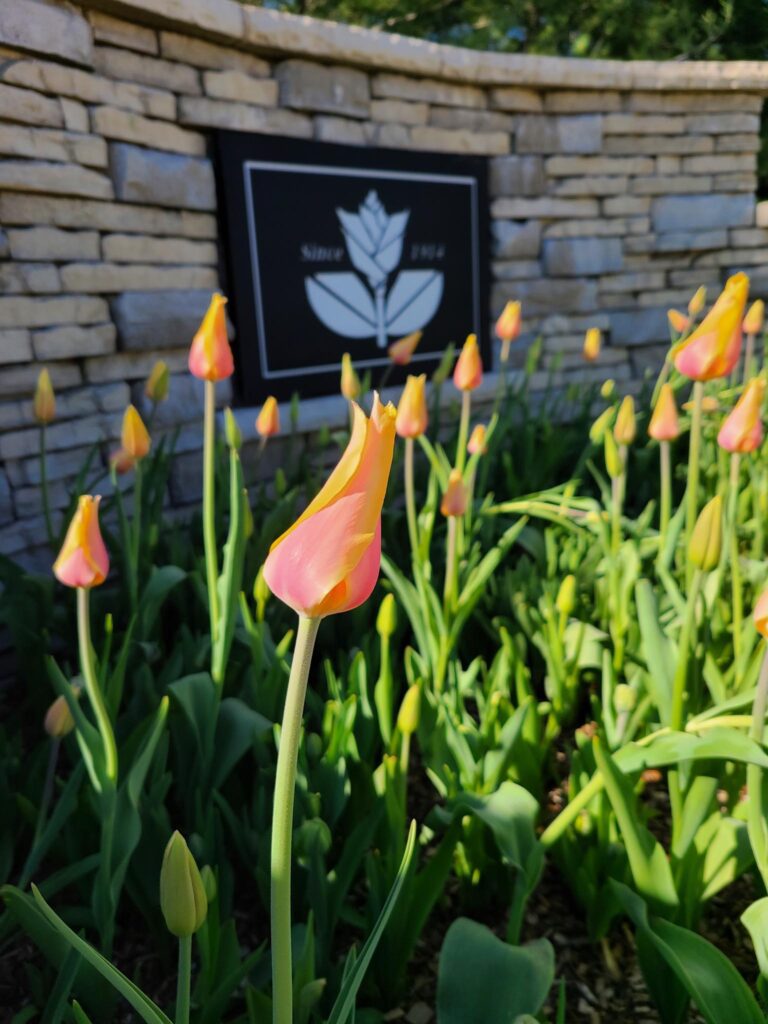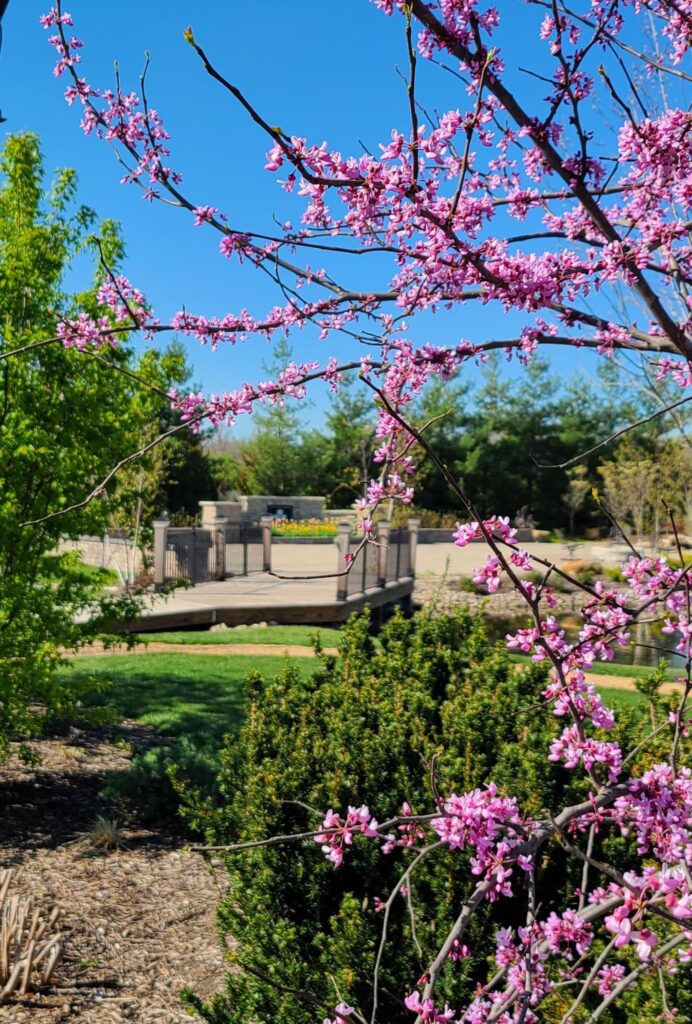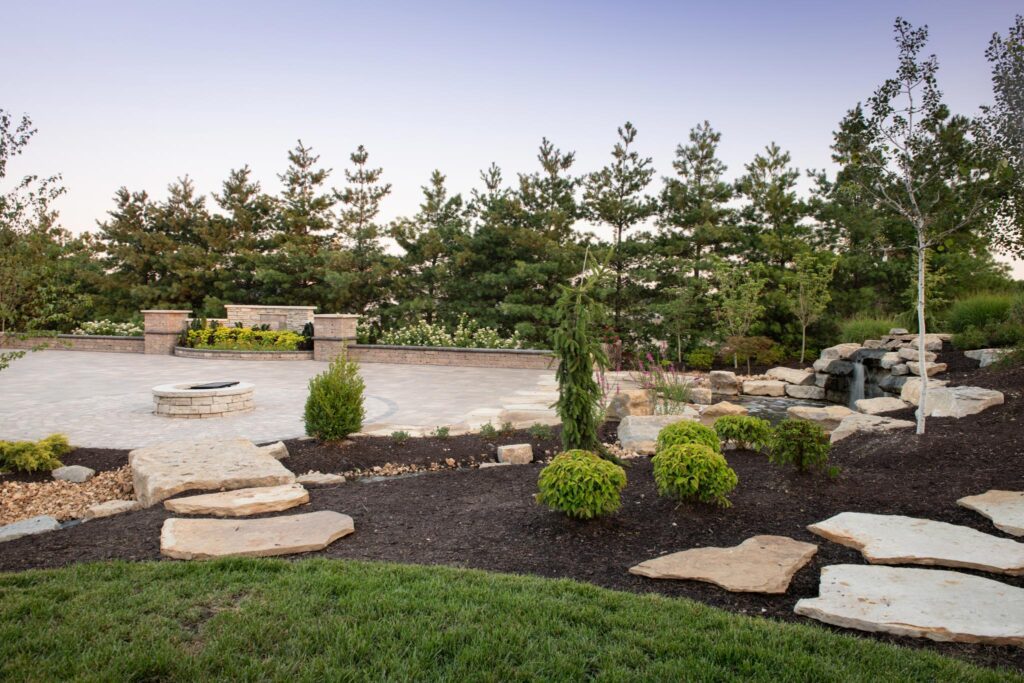 The Patio
Our patio accommodates up to 200 guests and is a perfect venue for large receptions. The entire patio area is available covered with a tent, so can be used to host events during most of the year. The space has a large stone patio overlooking a wide pond and with an elegant rockery and a water fountain. The space is connected by charming stone paths that lead your guests to the patio. The area is surrounded by a beautiful landscaped lawn and garden.
The Courtyard
Our courtyard holds up to 80 guests, perfect for ceremonies and medium sized celebrations. The courtyard is surrounded by vibrant annual flowers and comes complete with pergolas, tables and umbrellas. On one end a stage and the other a roll up door to an indoor bar room.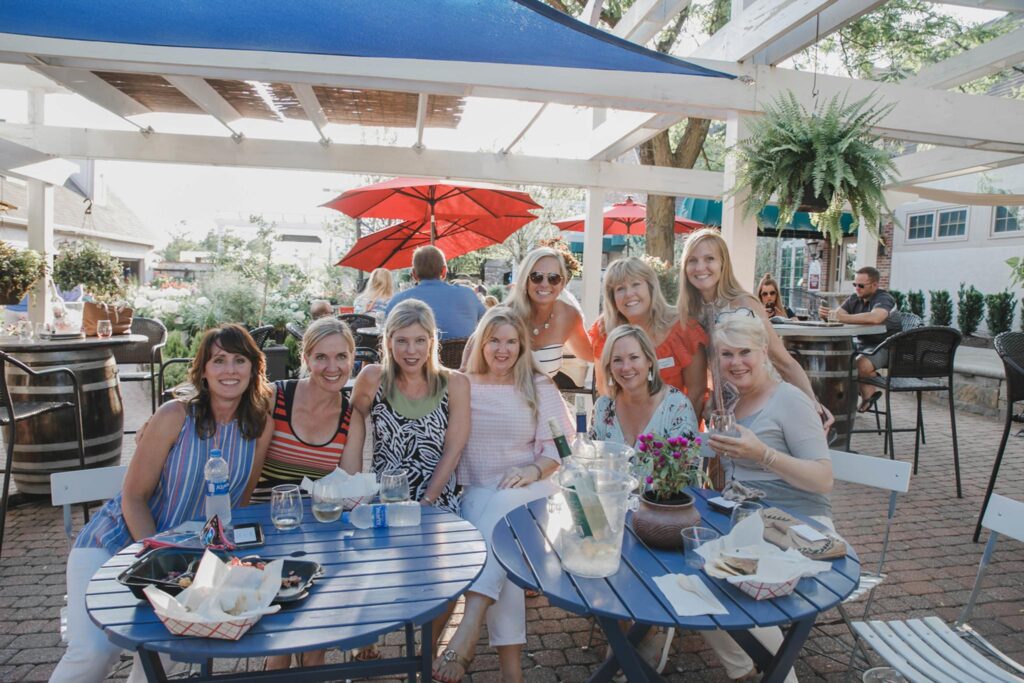 Rosehill Gardens Events Space features a stunning manicured property with a picturesque pond, intimate courtyard and ample amenities. Situated in a charming and historic garden center, the venue is immersed in rich greenery and expert landscaping. Today, Rosehill Gardens has become known for its idyllic event space, overflowing with photo opportunities and a welcoming ambience. 
Rosehill Gardens Events Space offers rental packages for midweek and weekend events. The event staff can assist with vendor recommendations and budgeting, as well as manage rental of tables, chairs, linens, decors, and utilities. Couples are welcome to select their preferred catering company for their special day, ensuring a personalized experience. 
Our couples tell us that they love the atmosphere that you feel when you are at Rosehill Gardens. They adore the natural beauty of our landscape, but we promise more too. When you choose to host your wedding at Rosehill Gardens, we strive to ensure that every step of planning your day is easy, fun, and exciting and that you feel respected and valued as we collaborate to create your perfect day. 
Sharing our love for landscaping is a particular joy for us. Because of this, we offer very affordable prices for our wedding packages and are honored to host your event of a lifetime. Below is the pricing for wedding packages that include everything you need from a venue.
Includes:
Use of facilities for the whole day Patio & Lawn area for up to 200 guests.

30' x 50' Wedding Tent (or smaller if desired).

On-site Parking and Management.

Set up and break down provided.

Open outside vendor policy
Mon - Thursday
$3,750.
Friday
$5,000.
Saturday
$6,000.
Sunday
$4,500
Add $5.50 per person if renting Tables, Linens and Chairs.
Mon - Sunday
$600
Not available Friday or Saturday after 2pm May – Sept. while Somerset Ridge Wine and Cider Bar is open
The rates below are for rental of the space for the whole day, please contact us for hourly rates.
Mon - Thursday
$1,500
Friday
$3,000
Saturday
$4,000
Sunday
$2,500
Knowledgeable designers, full service landscaping, great selection of warranted
plant material
and a beautiful event space as well. You can't get a better, more respected company than Rosehill gardens.
We give Rosehill Gardens a huge 5 stars! Adam Frits and Jesse Grimm are a joy! Exceptional customer service, dedication to a job well done, and a great landscape design for our yard!
This year they had absolutely perfect
plants
and flowers AND more of a selection than most. Absolutely love this beautiful place! Staff is always helpful as well.