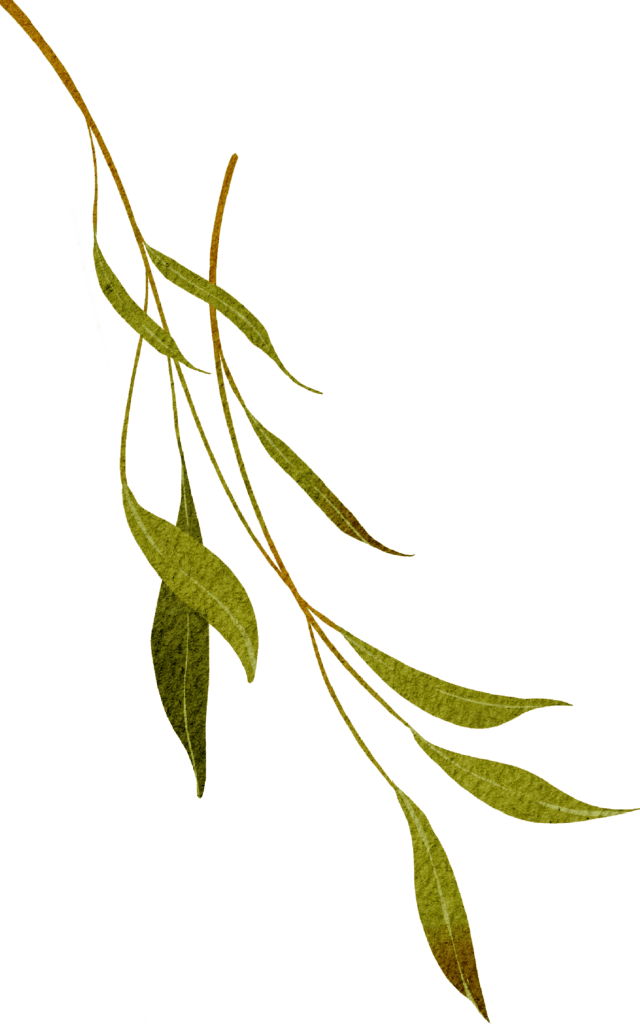 No other event space offers you a more picturesque location for your Kansas City event than Rosehill Gardens. Our outdoor venue features stunning manicured gardens, a beautiful pond, a versatile space, and extra amenities. Immersed in rich greenery with meticulous landscaping design, our event space is a perfect choice for your wedding, corporate event, fundraisers, or any other celebration.
Call Jeff Menefee at 816-506-2566 or fill out a form for more information.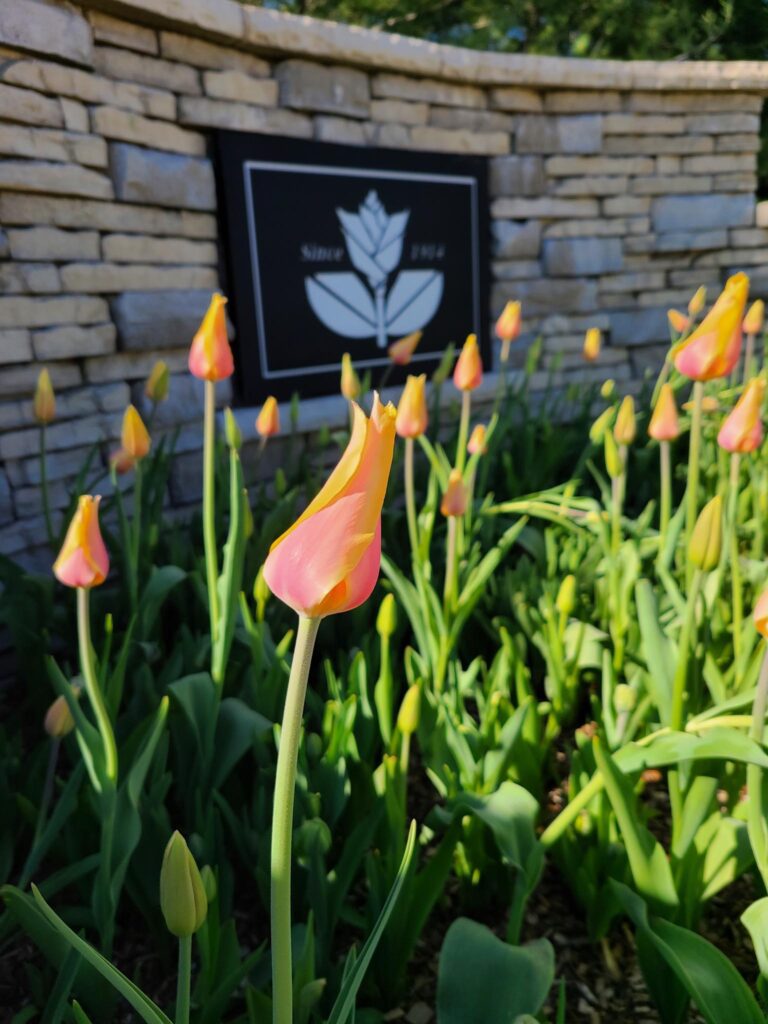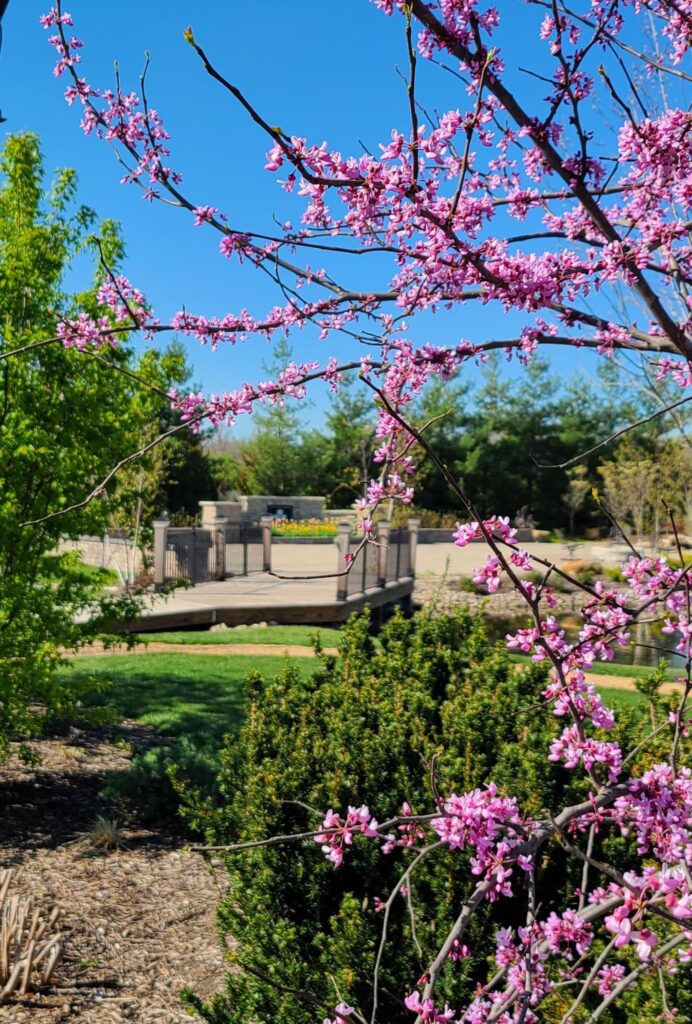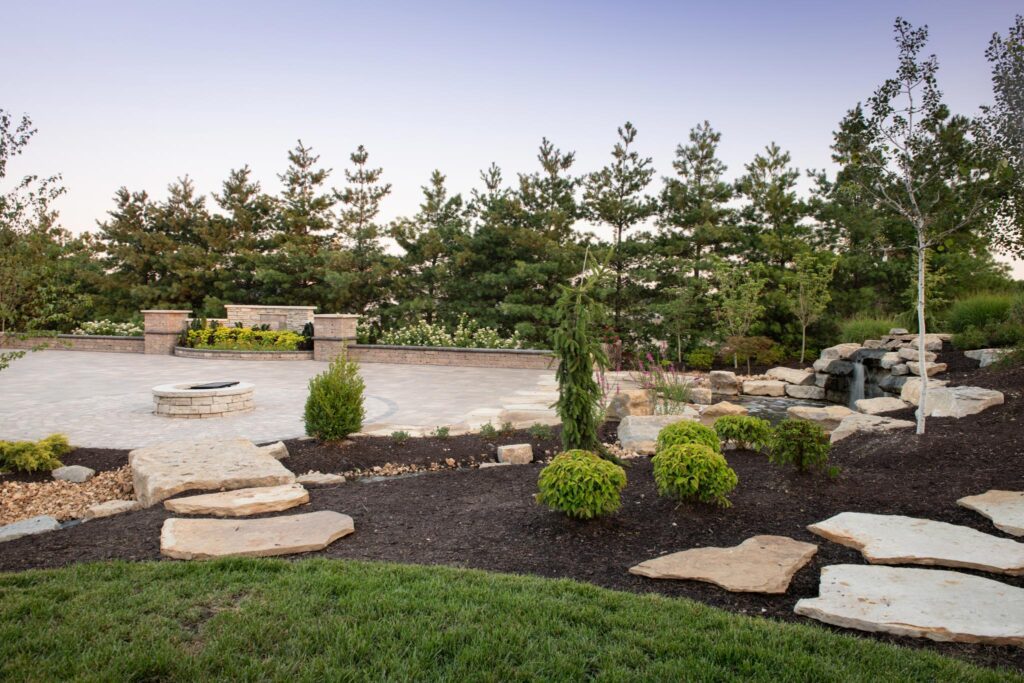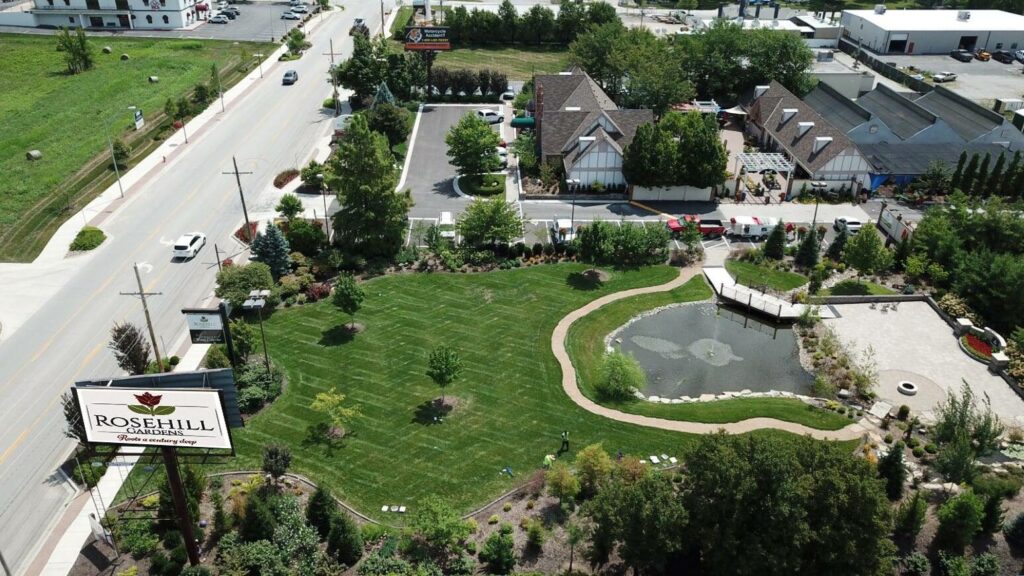 The Patio
Our patio accommodates up to 175 guests and is a perfect venue for large receptions. The entire patio area is available covered with a tent. The space has a large stone patio overlooking a wide pond and with an elegant rockery and a water fountain. The space is connected by charming stone paths that lead your guests to the patio. The area is surrounded by a beautiful landscaped lawn and garden. Larger groups can be accommodated on the lawn.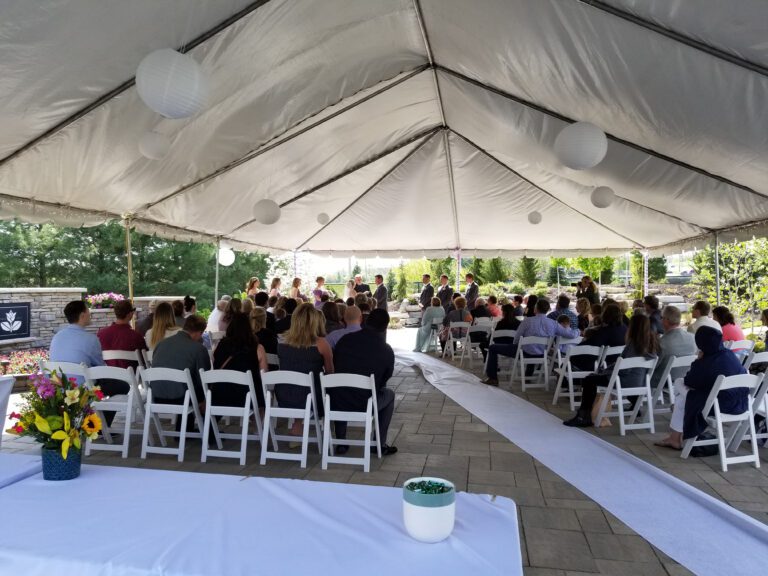 The Courtyard
Our courtyard holds up to 80 guests. An intimate and beautiful setting with cafe lights and amazing sunsets. The courtyard is adjacent to the Garden Center and is surrounded by vibrant flowers and landscaping. There is a stage for live music/DJ, 30'x20' indoor room with roll up door for your food and beverage service. Shaded pergolas, and umbrellas to keep you cool. Chairs and tables are ready for you.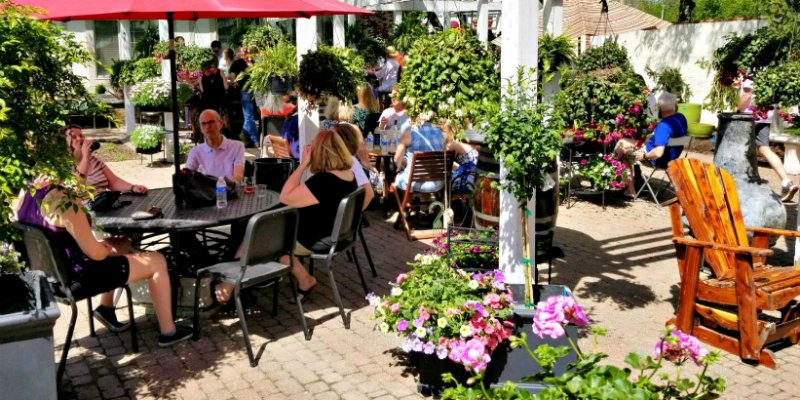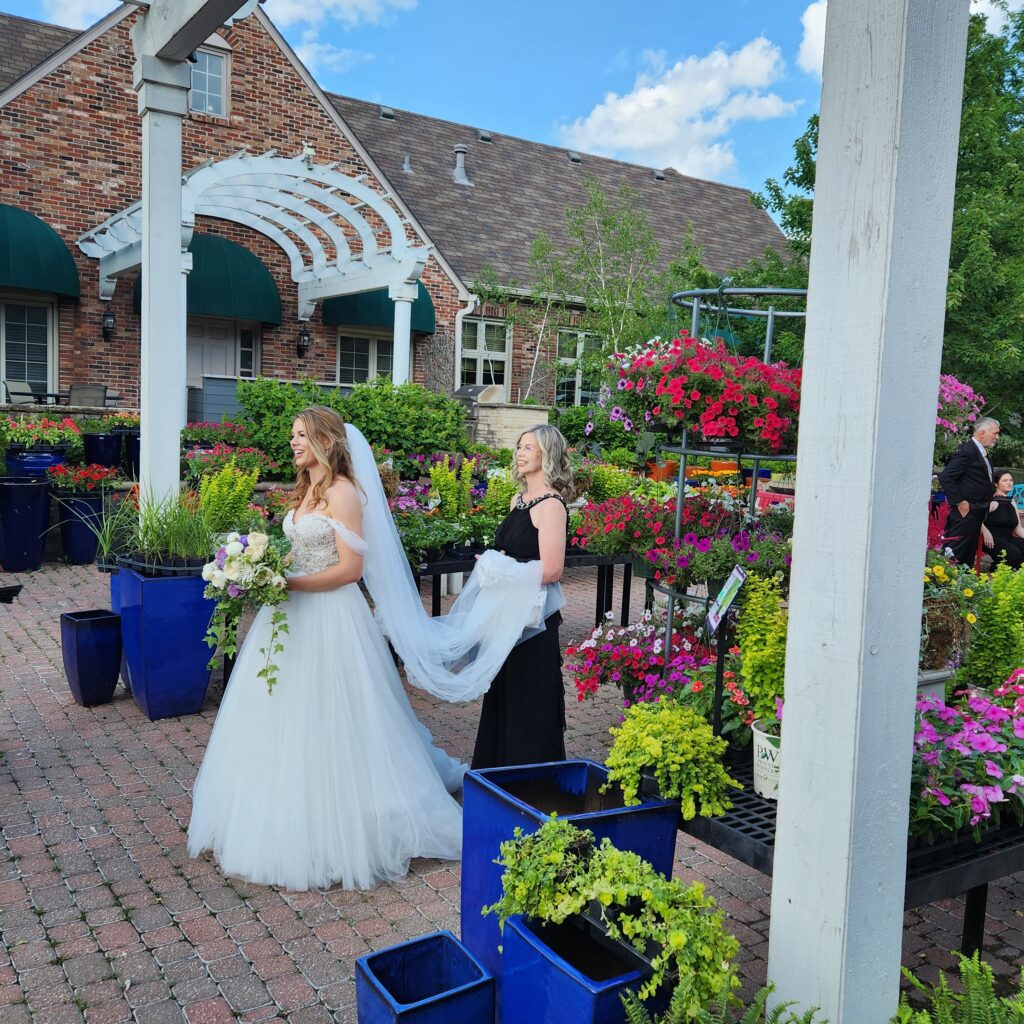 Rosehill Gardens Events Space features a stunning manicured property with a picturesque pond, intimate courtyard and ample amenities. Situated in a charming and historic garden center, the venue is immersed in rich greenery and expert landscaping. Today, Rosehill Gardens has become known for its idyllic event space, overflowing with photo opportunities and a welcoming ambience. 
Rosehill Gardens Events Space offers rental packages for midweek and weekend events. The event staff can assist with vendor recommendations and budgeting, as well as manage rental of tables, chairs, linens, decors, and utilities. Couples are welcome to select their preferred catering company for their special day, ensuring a personalized experience. 
Please fill out the form below to be contacted.
We recently held an engagement party at their patio event space at their Martin City location. First, the venue is absolutely wonderful. It was full of greenery and mums (it was held in Oct) and didn't need any decorations because of the natural beauty. The space had a water feature (small waterfall/pond) and plenty of seating/tables. Furthermore, they offered interior space for the bar set-up and food. The guests were so impressed and continuously commented on the venue. Although this was an "open house" type of event for the engaged couple, 95% of the people stayed the entire time due to the venue and simply enjoying the space. Jeff Menefee, the Event Coordinator, was simply amazing. He was patient and kind during the planning process.
The event venue is stellar and all the staff we encountered were friendly and helpful. I got a mature bonsai and thriving aloe vera. Next event we plan, Rosehill will be at the top of the list. Jeff was great!
This is an absolutely stunning place. Jeff has been such a pleasure to work with and makes this our first go to venue for an outdoor event.
The event space is absolutely beautiful! The scenery was perfect and Jeff was very easy to work with. I definitely recommend to anyone wanting to have an outdoor small party, reception or shower.
I attended a small event in this space. Wow - absolutely beautiful!!! The manager Jeff was a pleasure to deal with. Highly recommend!
My daughter had her wedding ceremony at Rosehill Gardens, on the patio, with around 130-140 people. Everything was so beautiful!! I believe the events contact person is named Jeff, and he was wonderful to work with! He was so welcoming and accommodating with the usage of their florals & greenery. We have received so many compliments on how gorgeous the venue & wedding ceremony was! He was also great with communicating with my daughter about details leading up to the wedding, and was on site during the rehearsal. Highly recommend this beautiful venue!!
"I could not be happier that we chose this venue. It was stunning. Our guests kept commenting on how beautiful the space was."